Film Studies
Mission Statement
We believe that being film and media literate in the 21st century is vital. Film education in schools is increasing pupil engagement, inspiring writing, improving literacy attainment and improving behaviour.
The link below allows you to see when topics may be covered; this is a guide for information only and has the potential to change as the year progresses.
"Film Studies? Do I get to just watch films all day?"
No!
Many consider film to be the main cultural innovation of the 20th century and a major art form of the last hundred years. Those who study it characteristically bring with them a high degree of enthusiasm and excitement for what is a powerful and culturally significant medium, inspiring a range of responses from the emotional to the reflective. Film Studies consequently makes an important contribution to the curriculum, offering the opportunity to investigate how film works both as a powerful medium of representation and as an aesthetic medium.
Learners at St Mary's will be introduced to a wide variety of films in order to broaden their knowledge and understanding of film and the range of responses films can generate. This specification therefore offers opportunities to study mainstream and independent American and British films from the past and the present as well as more recent global films, both non-English language and English language. The historical range of film represented in those films is extended by the study of silent film and significant film movements (such as European avant-garde and new wave cinemas in Europe) so that learners can gain a sense of the development of film from its early years to its still emerging digital future. Studies in documentary, experimental and short films add to the breadth of the learning experience.
St Mary's will enable learners to demonstrate knowledge and understanding of:
A diverse range of film, including documentary, film from the silent era, experimental film and short film;
The significance of film and film practice in national, global and historical contexts
Film and its key contexts (including social, cultural, political, historical and technological contexts);
How films generate meanings and responses;
Film as an aesthetic medium;
The different ways in which spectators respond to film.
It also aims to enable learners to:
Apply critical approaches to film and;
Apply knowledge and understanding of film through either film making or screenwriting. We aim to provide candidates with the skills required to write in-depth analytical essays, as well as the ability to conduct independent research. The level of study is well suited to candidates who wish to continue with further education.
We also aim to develop candidates' understanding of the world around them, and how this is represented - and often misrepresented - in film. In its broadest sense, this course demands that candidates consider the nature of film in their society and the world around them.
Course Structure
Learners take three components: Film History, Critical Approaches to Film and Making Short Film to be awarded the OCR A Level in Film Studies.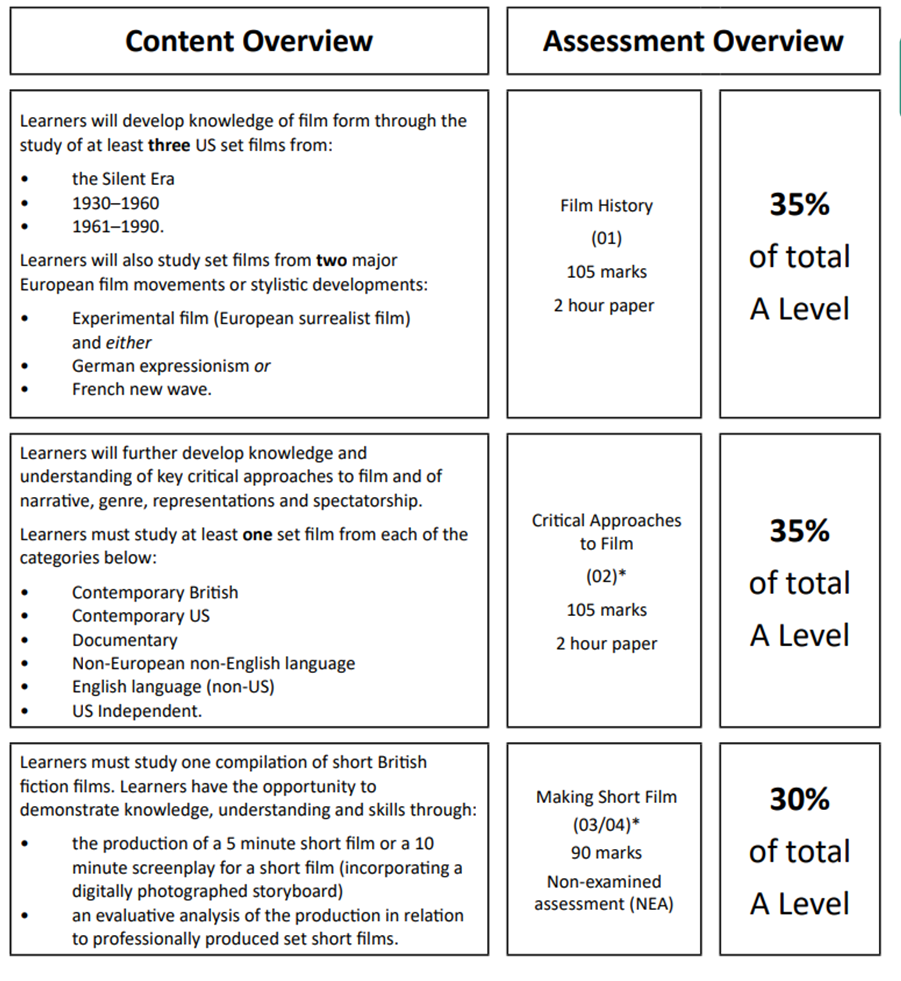 Please click here to view the OCR A Level Film Studies Specification
"I believe multiple aspects of the subject help me develop creative and technical skills, such as learning how to edit while using the WeVideo editing software, understanding the stages of production through the creation of our short films, as well as learning how to use equipment, from cameras, tripods, LED lights and more."

- Dario, Year 13