PE
Mission Statement
To instil a lifelong love of PE and sport, which leads to a balanced, active & healthy lifestyle
The link below allows you to see when topics may be covered; this is a guide for information only and has the potential to change as the year progresses.
Key Stage 3 & 4 Core Physical Education
Students from 7 to 11 will participate in 2 hours of Physical Education a week, the curriculum aims for these lessons are:
To instil a lifelong love of sport;
Students to acquire and develop skills in a wide range of sports and apply these in a competitive environment;
Improve physical and mental health.
The department aim to achieve this by giving the students experience in a wide range of sports both in lessons and after school and to make these as active and as enjoyable as we can. In KS3 students are assessed in two sports every half term, this is to help inform them of ways to improve and track progress. Students are not assessed in core PE in KS4.
GCSE Physical Education
Years 10 and 11 students are given the option of choosing to study a GCSE in Physical Education in addition to their core practical lessons.
The content and assessment overview is outlined below.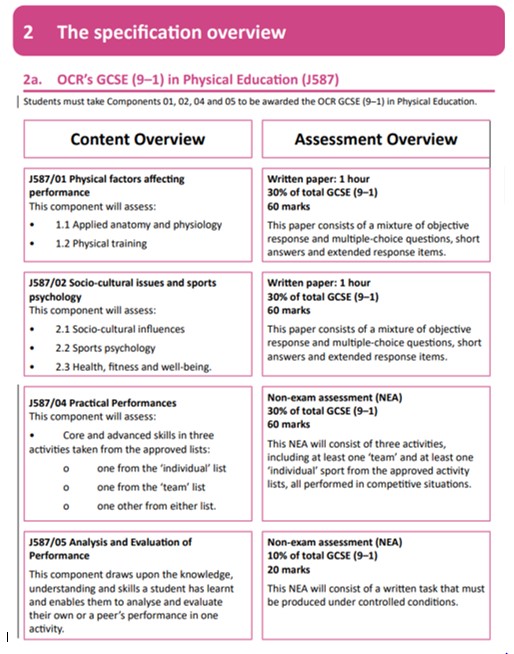 I think PE is fun it helps with your health and strength and knowledge, helps with skills, and builds up your confidence and also your stamina will help with your health and helps you with exercise.

- Mia, Year 7

PE is important, because it helps your fitness, mental health and makes you a much healthier person. It is also important to get fresh air and learn new skills. You could discover a sport you really enjoy or you are very good at and it could be your new favourite pastime

– Anna, Year 7