National Careers Week 2023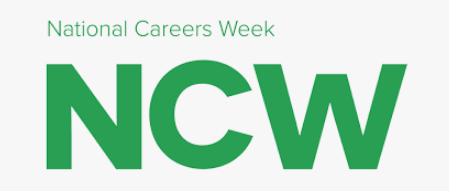 National Careers Week 2023 has been a huge success. It's a week dedicated to getting the young minds of our students seriously thinking about their future, their career and the pathway that they take when they leave us either in Year 11 or in Year 13.
The focus of Careers Week has been about Labour Market Information and we have had lots of external organisations in to talk to our students about STEM careers, entrepreneurs, employability and Apprenticeships. Our aim is that all students have thought about how labour market information can affect their career making decisions and what skills and competencies they need.
Students have taken part in form time activities in the morning focussing on Labour Market Information. All year groups have had a dedicated careers PSHE lesson focusing on; researching their dream career, to looking at jobs in demand in the future and getting ready for the working world. Students will also have received lesson starters at the beginning of their lessons dedicated to careers and skills in their lesson subjects, linking curriculum learning to careers.

For further information on National Careers Week, check out their website https://nationalcareersweek.com/ or type in #NCW2023 on social media.
Learning from Labour Market Information
What is Labour Market Information? It tells you about the local or national demand for different skills and from different industries.
Labour market information tells you:
Which jobs are likely to be easiest or hardest to find in your area
Which are the big employers in different areas and which ones have jobs on offer
What skills employers are looking for and which are in short supply
How much you can expect to be paid in specific jobs
What working conditions are like
What qualifications will be most helpful if you want a certain career
What the jobs of the future might look like and which jobs might disappear.
All of these factors can help you make a more informed decision about what career path to take.
As you can see, labour market information is really important! This is why we dedicated our Careers Week to Learning from Labour Market Information to ensure our students are informed and aware of the labour market in their area.
Parent and Carer Engagement
You can find current Labour Market Information on our website under our Careers section. We have links to up-to-date Labour Market Information in Hertfordshire, other districts and by employment sectors. Follow this link for more information.
Careers and Labour Market Information
Here are some of the resources our students have explored this week:
If you would like to get involved in National Careers Week next year, please do email info@stmarys.net FAO: Careers
Encounters with Employers and Employees
We have been very fortunate this year to have welcomed so many Speakers in to inspire our students to think about their career aspirations. We welcomed 6 STEM speakers into school ranging from a Polymer Chemist, Biologist, Medical Editor and an IT consultant covering a wide range of STEM topics touching upon their career pathways to enthuse our STEM minded students.
We welcomed local employer Price Bailey in to school who delivered a talk to our sixth formers about Employability Skills, working in accountancy, tax and auditing and the opportunities they offer to School Leavers and Graduates. This sparked a lot of interest with our sixth formers, with some Year 13 students already applying for the opportunity and inspiring our Year 12 students to apply for their summer work experience placements in the hope of a successful apprenticeship application in Year 13.
Check out our Careers Bulletin for National Careers Week for more information on these talks.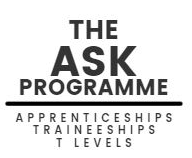 During National Careers Week this week, we have had The ASK Programme in to deliver a talk to our Year 10, 11, 12 and 13 students on Apprenticeships and how to find them.
The ASK programme is fully funded by the Education and Skills Funding Agency, part of the Department for Education whose aim is to help schools and colleges across the country deliver activities on apprenticeships, traineeships and T Levels. We look forward to welcoming ASK back in to school later on in the year to deliver a Mock Assessment Centre to our students.
For more information on ASK and the services they provide please see this video https://youtu.be/CCs7O3ltZvk
Or visit their website: https://www.apprenticeships.gov.uk/influencers/ask-programme-resources
Additional Information about The ASK Programme can be found here: https://amazingapprenticeships.com/about-ask/