Library
The O'Brien Library is located at the heart of the school.
Opening times are Monday to Friday 8.15am-4.00 pm
Mission statement
Encouraging and supporting students to develop a love of reading, helping them to flourish in their studies and to take an active part in school life.
We fulfil this by providing:
A wide range of fiction and non-fiction books for all reading levels, including short stories, graphic novels and Manga titles
A friendly, welcoming space for all members of the school to come together and feel at ease
Access to an online library system, Reading Cloud
Computers and printing
Revision guides and text books for all subjects
A dedicated, up-to-date Careers library
Extra curricular clubs, competitions and participation in judging schemes such as Carnegie Shadowing and The Royal Society's Young People's Book Prize
Opportunities to join in the running of the library as a student librarian
Reading for pleasure and Accelerated Reader
KS3 and KS4 Stretch and Challenge
Across the school, we are working to make sure students keep up the habit of regular, daily reading. This is especially important because of the disruption caused by COVID recently. Students should carry a reading book with them at all times. This can be a fiction or non-fiction title and needs to be something they enjoy, which they have chosen themselves.
Students in Key Stage 3 have fortnightly 'Accelerated Reader' lessons (marked as 'AR' on their timetable). During these lessons, they take part in activities to boost reading skills and they can log on to the Accelerated Reader computer program. The program enables the school to track each student's reading progress via quizzes they take when they finish reading a book or an article.
All students in Years 7 to 9 take a STAR reading test four times a year. This assesses key skills, such as information retrieval, comprehension and range of vocabulary. It also provides a measure of reading age, which is detailed for parents on regular AP reports. KS3 titles in the library are organised according to level, and the librarian has access to each student's most recent test results, in order to advise on appropriate books to choose. The aim is for students to read at the top end of their current reading range, so that they challenge themselves and make constant progress, but always with a book they have chosen to read. House point incentives and prizes are awarded both for students who regularly quiz and those who read the most. The link for Accelerated Reader is as follows: https://ukhosted108.renlearn.co.uk/1893751/
To access more information about Accelerated Reader click here: Parent's Guide to Accelerated Reader
We recognise and celebrate the contribution that family and friends make in encouraging our young people to be lifelong readers. You can help your child with reading at home by checking if they have read for 20 minutes or more each day. If your child is struggling to find a book they enjoy, ask them to visit the school library for help and advice. If your child is in KS3 and they finish a book at home, remind them to take the quiz on the AR website and ask about their score.
Manga Club
Thursdays 3.15 – 4.00 pm
Manga Club members meet every week to share their love of Manga and Anime. They also advise on the content of the library's Manga and graphic novel section. This year the group have been working on their own Manga story and artwork.
Books and Biscuits Club
Fridays 3.15-4.00 pm
Books and Biscuits Club welcomes students of all ages. Each meeting starts by sharing what we are currently reading, followed by a themed activity, discussion or game. There is also the opportunity to take part in 'Read and review': several members of the group read the same new book and send feedback to the publisher. Our tweet to author Alistair Chisholm about his excellent novel 'Adam 2' received a reply, which was very exciting!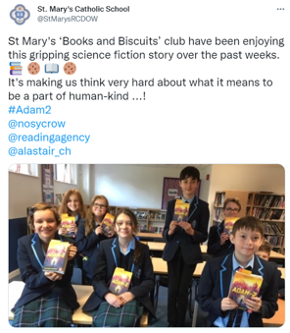 The best thing about Books and Biscuits is that we can hear about other people's opinions about genres and styles of books and we always do some sort of activity to do with the theme of that particular session. The biscuits are also really tasty!

- Hannah, Year 7
I often run out of books to read, so going to Books and Biscuits is a great way to hear book suggestions and reviews. It's also really fun to play games and activities related to books to improve your vocabulary. The best way to finish off a week!

- Harriet, Year 7
Carnegie Shadowing
The Carnegie Medal is the longest-running award for books written for children and young people, chosen by children's librarians. Every year in spring eight books are shortlisted for the prize, and groups in schools around the UK read the books and take part in specially designed activities and discussions. This is called 'Shadowing' as the children are assessing the books in parallel with the adult judges. Students from schools in Bishop's Stortford also meet up to compare ideas and share their opinions. Click here to read some reviews written by this year's St Mary's Carnegie Shadowing Group.
Student Librarians
Student participation in the daily running of the library is warmly encouraged and there is a team of student librarians who help out regularly. They do this by organising shelves, advising their fellow students, helping run events such as World Book Day or creating library displays. Students can apply to be a librarian at the start of each academic year by requesting a form in the library.
"I love being a student librarian because I get to learn many new skills, such as learning to shelve books and use the library system. I also enjoy it because I get to recommend some of my favourite books to people that they might not have considered yet. It has helped me improve my reading skills and much more." (Daisy C, Year 7)
"Being a student librarian has taught me lots of things, like how to be independent, knowing all the genres and interesting books out there, and taught me about responsibility. I love working for the school library and meeting new book lovers." (Cristiana D, Year 8)
"The best part of being a student librarian is the amount of new friends made … you get to interact with people in different year groups and talk to people you may have never even talked to." (Wiktor G, Year 9)
If you have any questions about your child's progress, Accelerated Reader or the library, please email info@stmarys.net.