Form M
St Thomas More
22nd June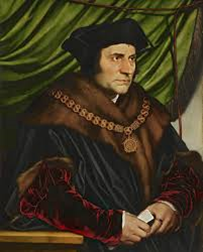 St Thomas More was a very intelligent man with a strong faith, courage and fighting spirit who over his years caught the attention of Henry VIII, and was asked to work as the Lord Chancellor. However, when Henry chose to break from the Catholic Church, and appoint himself as Head of the Church in England, Thomas More was unhappy and spent the rest of his life writing documents in defence of the Catholic Church. Henry didn't like this, and convicted Thomas More of treason and put him to death.
Thomas' final words before his execution was that he was dying as "the King's good servant-but God's first."
St Thomas More inspires us to be people of determination, and to stand up for what is right, even when it is difficult. To put our full effort in to the things we set our minds to and to do what is ethically right for our school and the common good.
Diligence, Persistence, Determination, Effort and Ethics