Form K
Maximilian Kolbe
14th August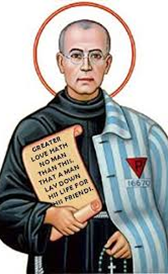 Maximilian Kolbe was a Catholic priest who spoke out against the Nazis. He was captured by the Nazis and sent to the concentration camp at Auschwitz during WWII.
One day, because some prisoners had escaped, random men were selected as punishment to starve to death in a bunker. One man with a family was chosen. When seeing this, Kolbe volunteered himself to take this man's place.
Kolbe was the last to die in the bunker but kept his faith in Christ alive to the very end in the extremely testing and torturing environment.
The man he saved survived the concentration camp and now his family has continued to honour and thank God for the example and life of Kolbe. "There is no greater love than this, to lay down one's life for his friends" John 15:13.
Kolbe inspires us to be people who recognise the value in others, to strive for justice in the world, and to put others before ourselves.
Humanity, Justice, Honour and Abstinence