Form B
Josephine Bakhita
8th February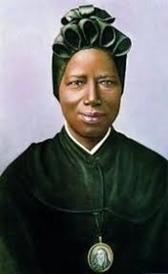 Josephine Bakhita was a Sudanese woman who was kidnapped and enslaved for 12 years. During these years she was treated extremely violently on occasions. She spent so many years in captivity that she forgot her real name.
Whilst with one of her last employers, she spent some time in an Italian convent and felt a call to Christ while there. She refused to leave the convent when her mistress returned and went through a court case to allow to stay.
It was proved that before she became a slave, the slave trade had been abolished in Sudan and therefore the mistress had no control over her to make her a slave. St Josephine said she wanted to thank her kidnappers because without them she would not have heard the call from the Lord.
St Josephine inspires us because of her willingness to forgive even the most violent of treatment, to see the best in all situations, and her integrity to fight for what she knows the Lord is calling her to.
Forgiveness, Endurance, Gentleness and Courage