Labour Market Information
We believe it is important for all of our students to understand the Labour Market because this will help them to make realistic choices about their future. Labour market information is region specific and it tells you about the current work and job environments.
Why is Labour Market Information important? LMI highlights career opportunities available across the county breaking information down into bite size chunks. It is important for social mobility and we believe that all students need to be equipped in understanding what careers are on offer in their region and how best to get there by making informed decisions about their study paths and future.
Current Labour Market Information for East Hertfordshire, can be found by clicking here
During our Careers Weeks we focus our form time activities and PSHE on current Labour Market Information. Students are faced with questions like; what jobs will be obsolete in 20 years' time? And what will the job market look like in 15 years' time? Activities like this really help the students understand the labour market trends and help path their way to a career.
All students were shown the video below to help them understand the Hertfordshire Labour Market.
https://www.youtube.com/watch?v=_gOrel4ye6M&t=9s
Data provided by Hertfordshire Labour Market Overview 2022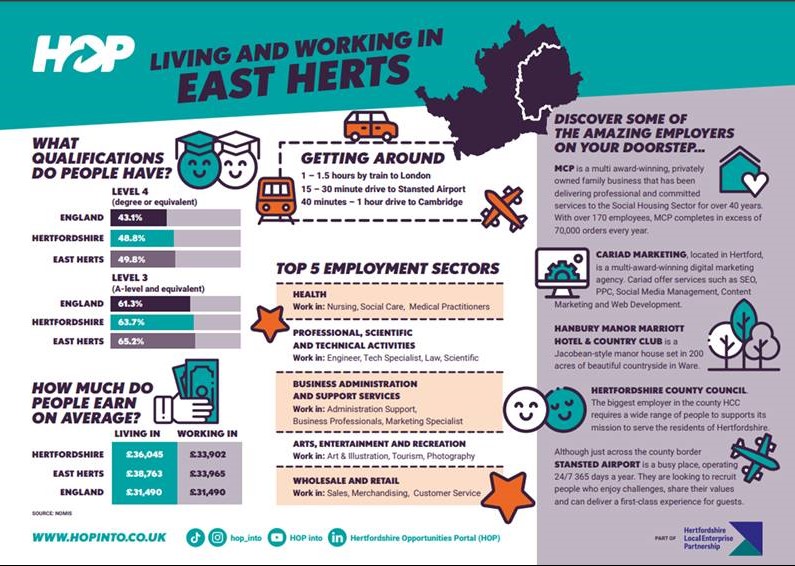 Hertfordshire Opportunities Portal (HOP)
Hertfordshire Labour Market Overview 2022
https://www.youtube.com/watch?v=_gOrel4ye6M&t=9s
For Labour Market Information on Employment Sectors or by District, please visit:
https://www.hopinto.co.uk/questions/labour-market-information/
Specific industry information, click here
Future of Remote Working, click here