Form T
St Therese of Lisieux
1st October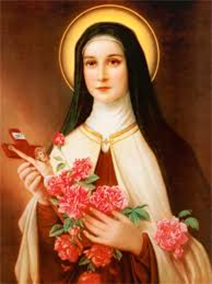 Therese was a woman who knew privilege and love within a big family as a child, but chose a life of poverty and hardship when she became a cloistered nun. She never went on missions, never performed great works and lived a quiet life.
After St Therese died at the age of 24 her journal was found and it revealed a remarkable life story. Therese's writing were collected, edited and published in a book called the 'Little Way'. The 'Little Way' was to make small daily sacrifices instead of great deeds. Her journal appealed to the thousands of Catholics and others who were trying to find holiness in ordinary lives, just like us.
St Therese inspires us to show love to others in the small things we do; e.g. a word of kindness, holding open a door. She said that she lived each day to bring a piece of heaven to Earth. She reminds us that we can serve God in everyday things, not just in big religious gestures.
Humility, Bravery, Modesty, Reverence and Selflessness